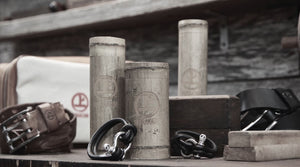 eVERYDAY eSSENTIALS
HAND MADE ORIGINAL DESIGNS
LEATHER HIDES
Our signature bracelets are cut from whole hides after belt selection is done to get maximum length yield. Bracelets are then cut using traditional shoe making techniques to maximize tensile strength.
SMALL BATCH
Machinery and skilled hand work combine to produce high quality uniform small batch production runs. Each piece is handcrafted by Parker Murakami.
PRECISION
All our bracelets start out precision die cut for accuracy and consistency. Hand finishing makes every piece unique.